红毛榴莲叶茶包 / Organic Soursop Tea Bag
In western countries, Soursop is known as a magical tropical fruit in nature. It can kill cancer cells without damaging normal cells, and its anti-cancer effect is 10,000 times stronger than traditional chemotherapy drugs!

Some scientists believe that juice made from Soursop leaf can effectively fight cancer cells. Not only does this juice taste good, but it does not have the same negative effects as chemotherapy.

In recent years, there have been countless cases of cancer patients recovering after long-term drinking of Soursop leaf tea, which has effects on more than 10 partial cancer cells, such as liver cancer, intestinal cancer, and gastric cancer.

Except for anti-cancer, it also has many benefits such as beauty, solving constipation, improve immunity, skincare, liver protection, detoxification, blood sugar reduction, etc. It is definitely a rare natural health product!
Product name: Organic Soursop Tea Bag
Product weight: 20 tea bags * 3g
Brew with 150ml hot water.
Main Benefits of Organic Soursop Tea:
Anti-cancer

Beauty

Detoxification

Reduce blood sugar

Improve immunity
---
在欧美国家,红毛榴莲被誉为自然界的神奇的热带水果,可以杀死癌症细胞的同时丝毫不损害正常细胞,而且其抗癌功效竟然比传统的化疗药物强1万倍!
有科学家认为,用红毛榴莲叶制成的果汁可以有效对抗癌细胞。而这种果汁不仅口感好,而且还不会像化疗那样带来负面影响。
近年在全球,已经有无数癌症病患在经过长期饮用红毛榴莲叶茶后复原的案例,对10多种局部癌细胞都有效果,如肝癌、肠道癌、胃癌等。
除了抗癌,它还具备养颜美容、解决便秘、提高免疫力、皮肤护理、保护肝脏、排毒、降血糖等众多效果,绝对是不可多得的天然保健品!
产品名称:红毛榴莲叶茶包
产品规格:20包 * 3克
饮用方法:一袋茶包泡150毫升热水 ,可重复冲泡直到没味道
红毛榴莲叶茶的主要功效:
抗癌
养颜美容
排毒
降血糖
提高免疫力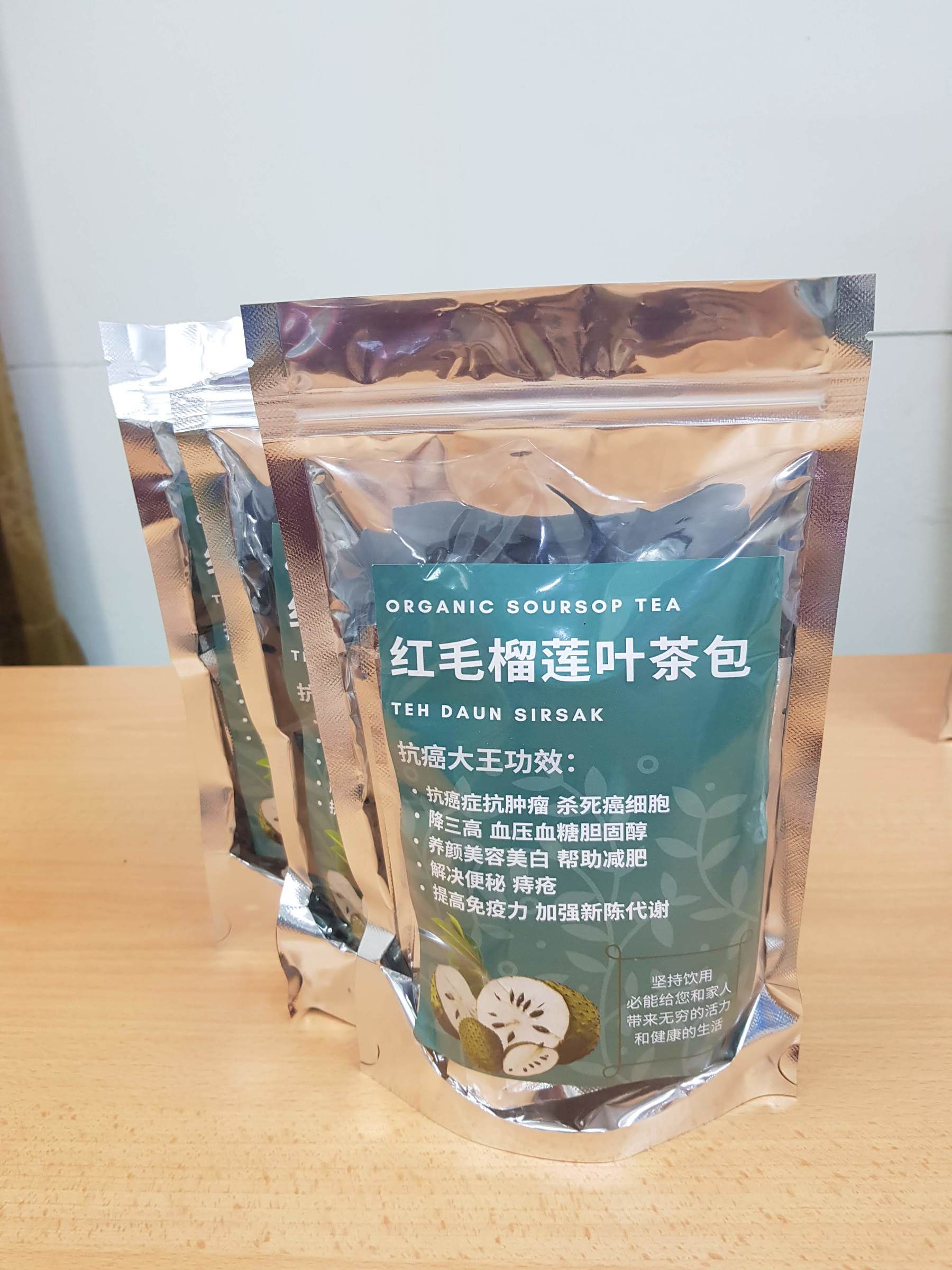 Customer comments
| Author/Date | Rating | Comment |
| --- | --- | --- |